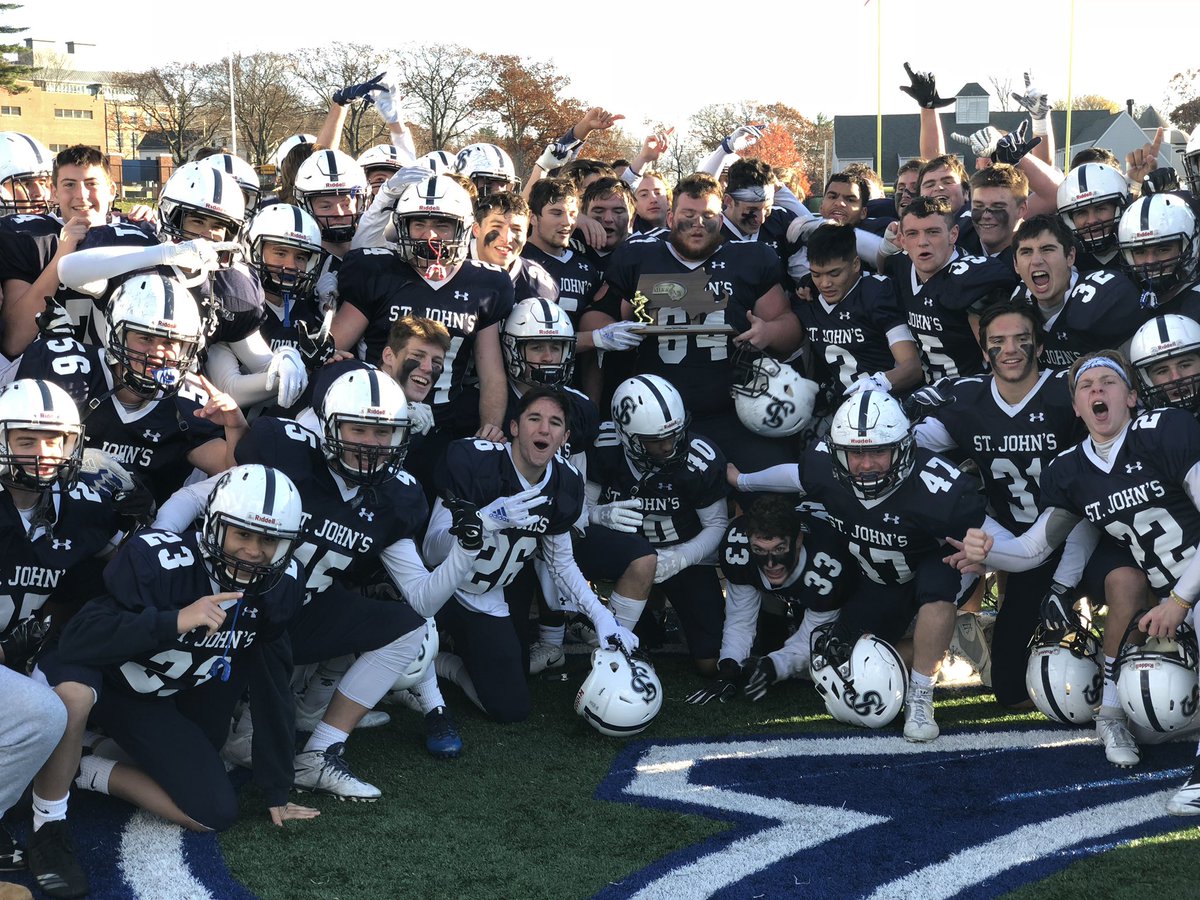 By Matt Feld (@Mattyfeld612)
DANVERS -- After years of coming up just short, St. John's Prep at last climbed the mountain.
Matt Crowley finished of 10-of-13 for 173 yards and a touchdown while the Eagles defense finished with six total sacks as
No. 2 St. John's Prep
shutout rival
Central Catholic
, 21-0, to claim its first Div. 1 North title on Saturday afternoon at Cronin Memorial Stadium.
St. John's Prep will take on Catholic Memorial in the Div. 1 Super Bowl at Gillette Stadium.
"I take a lot of pride on the school and especially this football program," St. John's Prep head coach Brian St. Pierre, a 1998 graduate, said. "I am really happy for these kids and I love coaching them."
Defensively, the Eagles front seven was impenetrable the entire afternoon. Collin Taylor had two of the Prep's six sacks while Matt Duchemin added an interception. Amidst a swirling wind, St. John's Prep limited Raiders quarterback Jared Silverio to 5-of-18 passing and just 97 yards of offense overall.
Crowley, meanwhile, managed to be effective despite the conditions. The Eagles junior quarterback finished the first half 5-of-5 on third down for 96 yards and a touchdown.
Wes Rockett was Crowley's main third down option going to him seven times for 90 yards.
"

We always knew we had it in us," said Eagles' captain Wes Rockett. "We truly are one unit."
St. John's Prep struck first on its opening drive of the game. Starting on the Central Catholic 45-yard line, the Eagles went on a 10-play drive, highlighted by a pair of completions from Crowley to Rockett before Trent Tully bulldozed his way into the end zone from three yards out to give the Eagles a 7-0 lead.
The Eagles defense began to make its presence felt early in the second quarter. With Central starting on its own seven yard line, James Handley, Anthony Fagan, and Jackson Delaney combined for a pair of sacks to force a Raiders punt.
On the Prep's ensuing drive it expanded its lead. On third and four, Crowley hit Luke Brennan on a quick slant route. Brennan took the pass, hit the after burners, and exploded 49 yards for a touchdown to give St. John's Prep a 14-0 lead.
The completion made Crowley the all-time school leader in passing yards for a season snapping the previous mark of 1,061 yards held by Ollie Eberth.
"Matt has grown up in the position quite a bit this year," said St. Pierre. "He has really taken control of the offense. Tough day for a quarterback with the conditions but he managed it really well."
For the first three quarters of play, meanwhile, Central was only able to move into Prep territory on a pair of occasions. One was at the end of the first half, but the drive concluded when Silverio's Hail Mary attempt fell incomplete.
The second time came on the Raiders opening drive of the second half when on fourth and six from midfield they attempted a fake punt only for Cameron Bose to come up one yard short of the line to gain.
St. Johns put the game out of reach early in the fourth quarter with a 25-yard pass from Crowley to Anthony Fagan setting up Tully's second touchdown run of the game to give the Eagles a commanding 21-0 edge.