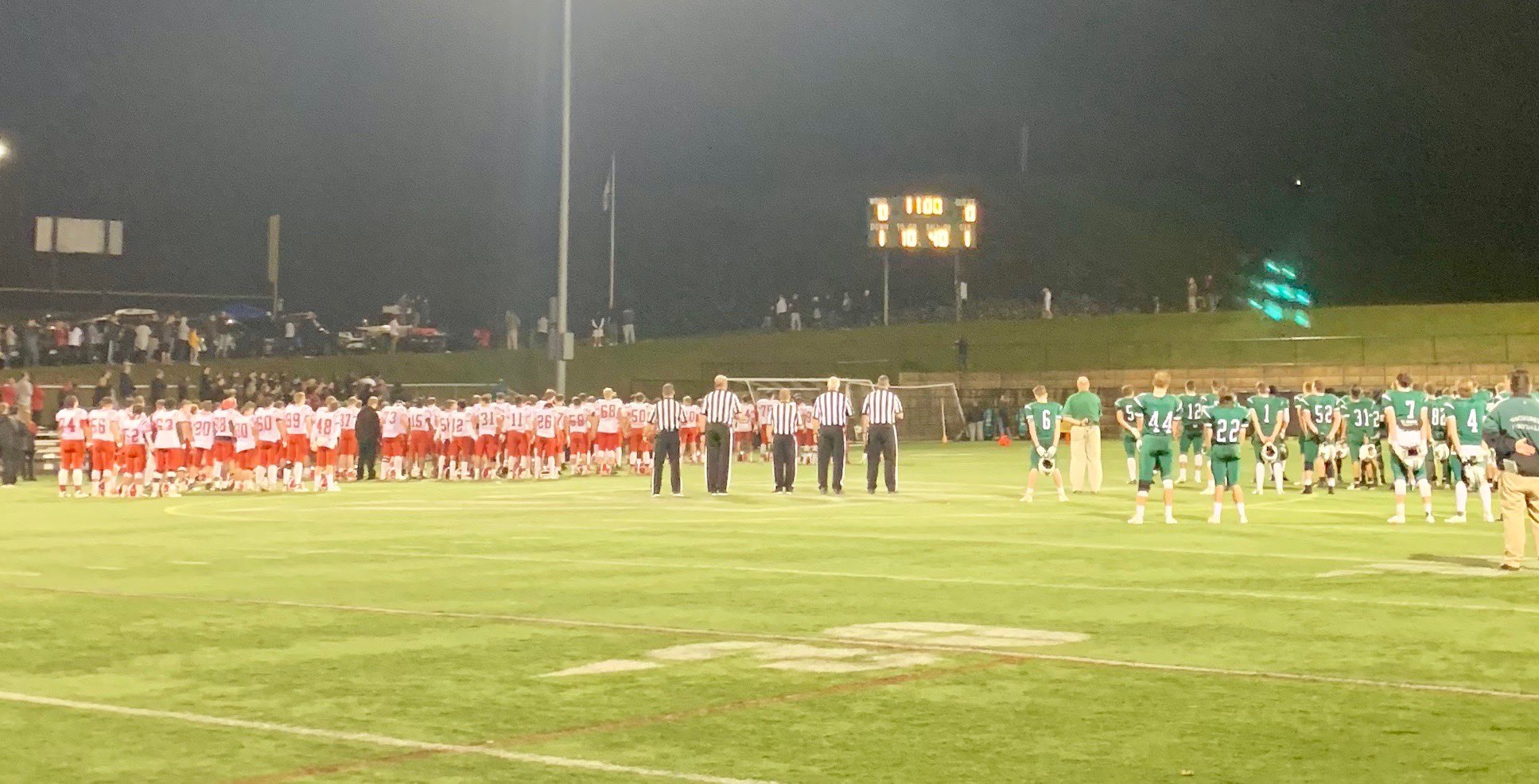 By John McGuirk (@Patsfan1313)
Holden, Mass. _ Defense? What defense? That will be ongoing question hanging over the heads of the No. 2 Wachusett Mountaineers following Friday night's 51-26 loss at the hands of No. 3 St. John's Shrewsbury in the Division 3 Central Mass. Semifinal inside Hal Lane Field.
Prided all season long by its defense, it was nowhere to be found against the Pioneers in the most important game of the year. Wachusett surrendered 554 yards, including 425 in the first half, and turned the ball over four times. Those four turnovers led to three St. John's touchdowns as the Pioneers pulled away early and never looked back.
The defending Division 3 Super Bowl Champion Pioneers 6-3) now await the winner of Saturday night's other semifinal between No. 4 Shrewsbury and No. 1 Doherty.
This tilt marked the second time this season that St. John's has defeated the Mountaineers. Back on September 29th, Wachusett blew a 17-point lead as it allowed 24 unanswered points in the final quarter en route to a 38-31 loss.
It only took roughly a quarter and a half for the Pioneers to take control of this one. With just over 4:30 remaining before halftime, they had already built a substantial 27-0 advantage.
St. John's quarterback Colin Schofield turned in a solid performance, throwing for 368 yards on 13 of 28 passing. Schofield had touchdown passes of 89, 66, 18 and 50 yards respectively. The junior also ran one for a score.
"The new routes that we put in this week really helped us," said Schofield. "We made some adjustments on the side which also really helped us tonight. When things went poorly for us there was never any kind of issue. We just continued to stick to our plan. The ultimate goal for us is to get back to Gillette but we cannot afford to look that far ahead."
Wachusett's defense was left in a daze early and often by the resurgent Pioneers, who bounced back nicely following a tough defeat against Marlborough one week ago.
On St. John's opening possession, the Pioneers reached into their bag of tricks when Shea Gallo-Kolegue, taking a lateral from Schofield, hit a wide-open Antonio Stakley for a 73 yard scoring pass to go up 6-0. A J'Zhon Henderson fumble on the Mountaineers' ensuing possession eventually led to a Schofield 89 yard scoring strike to Austyn Demers, putting the Pioneers ahead 12-0.
Midway through the second quarter, a Mountaineers turnover put the St. John's offense back in business.
A Schofield to Demers completion covering 18 yards was immediately followed up by a Schofield 66 yard touchdown pass to Jay Brunelle across the middle which increased the Pioneers margin to 19-0.
Showing some more trickery, St. John's recovered the ensuing pooch kick that set the stage for Schofield's 8 yard scoring jaunt into the end zone. Schofield's follow-up conversion pass to Gallo-Kolegue had the Pioneers comfortably in front by 27 with still 4:33 to go before halftime.
"We just didn't make enough plays to win the game," said a glum Wachusett coach Mike Dubzinski. "We turned the ball over way too much and you aren't going to beat that team when you turn the ball over like we did. In fact, you aren't going to beat anybody when you do that."
Brewer (22 carries, 129 yards) finally got the Mountaineers on the board moments later with a 54 yard sprint up the gut. The senior back rushed 129 yards on 22 carries.
There was still plenty of fireworks to go before intermission. A Jacob Newsham 31 yard field goal pushed St. John's lead out to 30-7 before Wachusett senior Gavin Maenzo returned the ensuing kickoff 79 yards for the score.
But the touchdown did nothing to damage the Pioneers' mindset.
Within a matter of seconds, St. John's was on the move yet again. A 46 yard completion to Gallo-Kolegue set the stage for a Schofield 18 yard scoring pass to Stakley (125 yards, 2 TDs) in the back of the end zone that sent the Pioneers into the half well in-command with a 38-14 advantage.
"I think we adapted well to what Wachusett was doing," Pioneers coach John Andreoli said. "Give credit to our coaches and kids to be able to put a great game plan together in all three phases and being able to execute all of them well tonight. The two things were able to do well was running and passing. We were able to stick our foot in the ground and continue getting up the field."
Wachusett (293 yards) made things a bit more interesting during the early stages of the closing half.
The Mounatineers closed within 12 as Brewer rushed for a touchdown, and after Schofield was picked off by Mike Tarantino, Brewer plunged in again from one yard out to trim the deficit to just 38-26.
But that was as close as the Mountaineers would get. On its next possession, St. John's drove 61 yards before Brunelle, cutting over the middle, caught a Schofield pass in stride and darted t into the end zone.
"We weren't taking (Wachusett) lightly after what happened in our first meeting," said Schofield. "We knew what we were facing tonight which helped us. Tonight our receivers knew what they needed to do and just continued to get open."