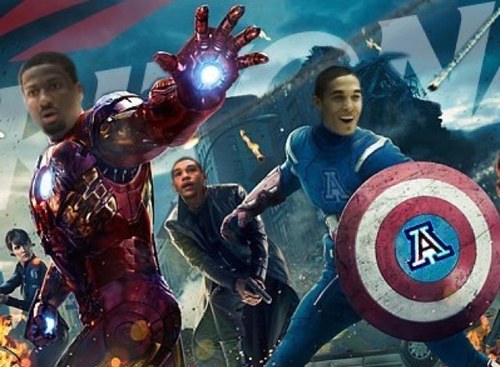 Arizona's Nick Johnson has an amazing Twitter avatar. But is it enough to get the Wildcats to the Elite 8?
By Jeremy Conlin (@jeremy_conlin)
The Sweet 16 has eight games spread out over the next two days. Friday's slate holds the marquee game of the round (and by "marquee" I mean "most recognizable) in Louisville-Kentucky, but Thursday arguably has the most interesting game from a matchup and personnel standpoint. Here are the four games tonight:
No. 11 Dayton vs. No. 10 Stanford
7:15 p.m. - CBS
(South Region - Memphis, TN)
Summary:
Normally on Thursday nights, TNT runs an NBA double-header. They won't be doing that tonight, because they don't want to have to compete with college basketball for ratings. As it turns out, they aren't really sacrificing anything, as this matchup will be the best advertisement for NBA basketball that they possibly could hope for. Both Dayton and Stanford have played exceptionally ugly games so far in the tournament (which isn't to say they shouldn't have won - by ugly-ing up their games against Syracuse and Kansas, respectively, they were able to win games that in most scenarios wouldn't be winnable) and I'd only expect this game to be even uglier. Both have great defenses and poor offenses (even by college basketball standards), so this might be a race to 60.
Players to Watch: Dyshawn Pierre (Dayton); Josh Heustis (Stanford)
Pierre is Dayton's best scorer, Heustis is Stanford's best defender (and the school's all-time leader in blocked shots, which seems incredible with all the talented big men that have come through Palo Alto). Heustis was instrumental in shutting down Andrew Wiggins last weekend, so you'd think Dyshawn Pierre shouldn't be too difficult for him.
The Pick: Dayton
That being said, Dayton has impressed me slightly more than Stanford has. Both barely survived their previous games - both Syracuse (against Dayton) and Kansas (against Stanford) had opportunities to win the game in the final minute. And Syracuse and Kansas were of roughly equal quality, so it's safe to say that both performances, on par, were even. However, Dayton's first-round win over Ohio State was more impressive than Stanford's over New Mexico, so I'll give Dayton a slight upper hand. Regardless, one of these two teams is going to be a double-digit seed in the Elite 8, so the Cinderella run will continue.
No. 6 Baylor vs. No. 2 Wisconsin
7:47 p.m. - TBS (West Region - Anaheim, CA)
Summary:
This game could go one of two ways - either Baylor could dominate the game athletically from start to finish like they did against Creighton, or Wisconsin could weather that early rush of athleticism, take their lumps, surrender a lead, and then mount a furious comeback in the second half like they did against Oregon. It's an interesting matchup in that each team's previous game actually serves as a decent facsimile for this matchup. All things considered, however, it doesn't bode well for the Badgers that Baylor blew out Creighton and Oregon built a big lead against them. I wouldn't expect them to be able to make two huge comebacks in a row.
Players to Watch: Sam Dekker (Wisconsin); Cory Jefferson (Baylor)
Dekker is Wisconsin's most complete offensive player, but Jefferson is coming off a game where he followed Doug McDermott around and completely took him out of the game. (Okay, that's not totally true, Baylor was playing a zone for most of the game, but McDermott ended up near Jefferson most of the time.) If Creighton wasn't able to beat the zone and rain threes down on the Bears, then I can't imagine Wisconsin will be able to, either. It will be up to Dekker to either create offense off the dribble, or be an absolutely dynamte pivot player in the middle of the zone, getting the ball in the high post and either attacking or passing to the open man.
The Pick: Baylor
As mentioned above, I really don't think it's a good sign that Wisconsin fell behind by double-digits to a team that is very similar to Baylor, only Baylor is bigger, faster, and more skilled than Oregon was. Wisconsin plays a finesse offense that requires a lot of ball and player movement, but that's much harder to pull off against a zone, especially when three of the guys on the floor have wingspans in excess of seven feet. I don't think it will be a 30-point rout like the Baylor-Creighton game, but I'll take the Bears to win comfortably.
No. 4 UCLA vs. No. 1 Florida
Approx. 9:45 p.m. - CBS (South Region - Memphis, TN)
Summary:
Florida came into the tournament as the No. 1 overall seed and hasn't really done much to tell anyone they don't deserve that respect. UCLA came in as probably the lowest-regarded of all the No. 4 seeds (certainly not as well regarded as Michigan State or Louisville), but they've impressed so far, beating both Tulsa and Stephen F. Austin by 17-point margins. Granted, Tulsa and SFA were 12- and 13-seeds, and Florida is the best team in the country, but the Bruins at least have some reason to be optimistic.
Players to Watch: Kyle Anderson (UCLA); Ben Frazier II (Florida)
UCLA is one of the more underrated offensive teams in the country. Anderson is a big part of that, averaging a 15/9/7 (with some generous rounding) this season. More importantly for this matchup, however, might be his 49.1 percent accuracy from three-point range. If he, along with UCLA's freshman guards Bryce Alford and Zach LaVine can space the floor and stretch Florida's defense, all of a sudden UCLA's leading scorer and best all-around player, Jordan Adams, will be able to find seams to the basket that he can exploit. Frazier, meanwhile, needs to continue to be a knock-down shooter for the Gators. Their offense has a hard enough time manufacturing points even when he is shooting well, but when he's not they could find themselves vulnerable.
The Pick: Florida
It's going to come down to UCLA's offense against Florida's defense. If UCLA gets hot and starts raining molten lava from the three-point line, they'll probably win. But anything less and they probably won't. Florida's defense should be able to bully UCLA's undersized guards, which will put undue stress on Adams and Anderson. They're good players, but they have trouble doing everything themselves.
No. 4 San Diego State vs. No. 1 Arizona
Approx. 10:17 p.m. - TBS (West Region - Anaheim, CA)
Summary:
This is the only game Thursday in which the teams have already met this season - Arizona went into San Diego and beat the Aztecs 69-60 back in mid-November. There are a few things that can be taken away from that game, like how much trouble each team had scoring. Arizona has the country's third-ranked defense, San Diego State tops them as the best overall defense in college basketball, and they showed it off in Round 2, holding North Dakota State to just 44 points in 40 minutes on 31.9 percent shooting. However, Arizona did have Brandon Ashley available in that game; they obviously won't tonight.
Players to Watch: Nick Johnson (Arizona); Xavier Thames (San Diego State)
It's pretty straightforward - with two elite defensive teams, it's going to come down to which of the two star guards is able to make plays and create offense down the stretch. They won't be completely on their own, but these are the two guys who will have the ball in their hands at the pivotal moments.
The Pick: Arizona
It's tough to just say "They won before, they'll do it again" when the previous game was four months ago and Arizona has since lost a pivotal player. But even with Ashley in the lineup, Arizona has been arguably the country's most complete team - they actually have a better defense than Florida statistically, but rank 11 spots better on offense (Florida is 54th in Offensive Efficiency, Arizona 43rd). San Diego State, meanwhile, ranks just 84th on offense. Aaron Gordon will be a huge X-Factor for Arizona on defense. If he can play like he has all season, the paint will be almost completely closed off and the Aztecs will have to win shooting jumpshots, something they probably won't be able to do - they only shoot 36 percent from three-point range as a team, 101st in the country.